The Drop-In Brewing Company
has been in business since the summer of 2012
Opening his own brewery was a dream for Steve Parkes since purchasing the prestigious American Brewers Guild nearly twenty years ago. His dream became a reality when he acquired an old plumbing supply building on Route 7 South in Middlebury, Vermont. With over 30 years of commercial brewing experience, beginning with a degree in brewing science at Scotland's Heriot-Watt University, Steve will continue to brew a variety of artisan beers, that will continue to advance the craft brewing movement here in Vermont, and nationally.
The Drop-In Brewing facility contains a brand new Newlands 15bbl brewing system. Our tasting room serves pints, offers growlers and cans to go, in addition to a variety of apparel and merchandise. The facility is also permanent home of the American Brewers Guild – the nation's premier brewing school for the craft brewing industry, which specializes in intensive brewing science and engineering courses for professional brewers. The ABG has been training and educating brewers from all corners of the globe for over 20 years.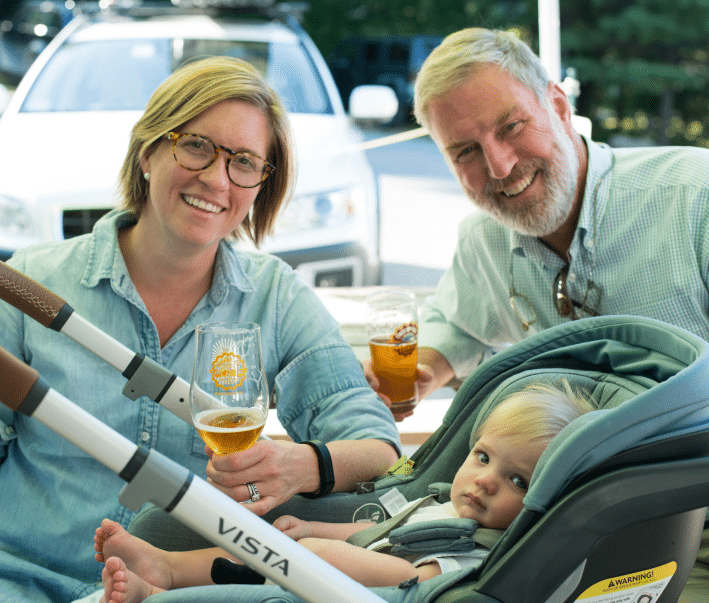 Steve's passion and experience
Are evident in each of his three featured beers. His flagship creation, Sunshine & Hoppiness, is light and crisp with delicious Belgian flavors that balance perfectly with American Cascade Hops. Another year-round production is the Heart of Lothian, a Scottish 90 shilling (inspired by the flavors of Steve's homeland) with subtle nuances of chocolate and caramel. Red Dwarf is an American amber ale based on a recipe Steve made famous in California. Supernova IPA, Kitten DS, Six Holes In My Freezer, and Dude, Are You OK? are among the occasional beers that show up from time to time.
each of the beers at drop-in
Can be found on tap and in cans throughout Vermont. The ambiance within the tasting room is that of a small museum, with a collection of brewery memorabilia from throughout the United States on display. The beer at Drop-In Brewing is a must-try for any beer enthusiast visiting Vermont.